SOUND Bath MEDITATION
---
Mary Bartel
Sonic Alchemist Practitioner
---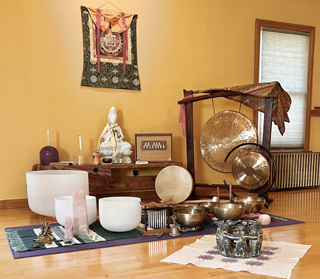 ---
Relax your body - Ease your mind - Uplift your spirit
Come bathe in mystical sounds produced by Tibetan and crystal singing bowls, chimes, a White Gong and more. Felt waves of sensation naturally relax the body where then the mind more easily can enter into meditative states. 
The experience is very individual. Have no expectation, invite the sounds with whole body listening, allowing the vibrations and frequencies to soothe you. You may emerge from the experience feeling clear and energized, very relaxed, or something else.
---
Upcoming Group Event:
TBA

Make yourself comfortable lying on the floor. A padded mat, cushion and blanket will be provided or add-on lying on a massage table or ergonomic chair with the healing power of a Biomat.
Sound Bath: $30
add - Resting on a Massage Table w/Biomat - $25
add - Resting on an Ergonomic Stressless Chair w/mini Biomat - $20

---
Private sessions available: One, two or more people may book sound meditation sessions. To book a session contact Mary for availability and pricing. Or click the menu of services link on the schedule page. Please call for an appt. rather than scheduling online or text me 518-354-2425.
---
If on a mobile device (tablet, smartphone) please Click here return to the Schedule. If on a PC, the site should be in the background, please click to close window below.
Inner Quest Yoga & Wellness Center
You are the visitor. Thank You for stopping by.