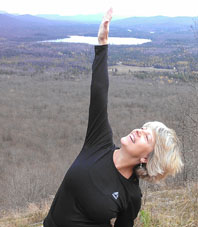 'Back to the Healing Woods' Retreats in the
Adirondack Mountains

back in the healing woods
adirondacks YOGA & MEDITATION retreats

---
Private Retreats for one to four PARTICIPANTS - choose your dates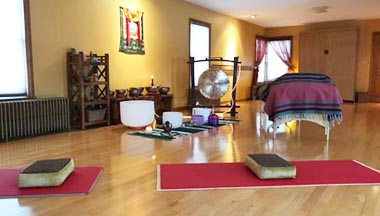 Experience a breathtaking Adirondack Yoga Retreat. The sacred space of Inner Quest Yoga studio awaits you along with comfortable lodging in one of two efficiencies. be guided in mind-body practices and optional outings in nature that will support your specific heart felt needs. The beauty of the mountains, woods, and waters will hold you in wonderment, spark inspiration and connection with nature. The inner and outer experiences will invite you to commune with all aspects of yourself so you may delight in your senses and feelings of wholeness and freedom. Click here >
To inquire and arrange your retreat, contact Mary.
---
YOGA & Paddle Retreat
June 24-28, 2023
Five Days, Four Nights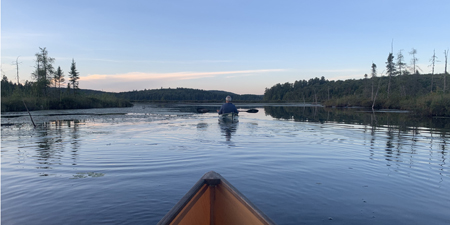 Adirondack Hamlets to Huts is happy to offer its Yoga & Paddle Retreat! This one-of-a-kind experience combines yoga and meditation instruction with paddling on the beautiful waterways of the Adirondacks and overnight stays at three Adirondack Great Camps and one repurposed historic hotel. Included in this incredible offering are:
Twice-daily yoga/meditation sessions
Four nights of lodging, double occupancy
All meals
Tours of Camp Huntington and Great Camp Sagamore
All luggage shuttle services
Travel facilitated by a certified New York State Guide
---
Great Camp Sagamore wellness weekend
August 24-27, 2023
Four Days, Three Nights - Thursday - Sunday

Join our Wellness Weekend at Great Camp Sagamore. This National Historic Landmark, an Adirondack Great Camp, provides a magnificent wilderness setting for a respite. I will be leading gentle movement and meditation sessions. There are guided walks, paddling, and more. Participate as much or as little as you wish. The meditative practices
 invite curiosity and self-inquiry resulting in a heightened sense of body-intelligence, your instincts, and ultimately what's most important. C
ome - embrace simplicity - set yourself free to be. Breathe, relax, feel, watch, and allow.
No meditation or yoga experience required.
For more information and to register click here>

---
Inner Quest Yoga & Wellness Center
© Inner Quest Yoga · Responsive Web Design: