Sound Bath & Meditation from the east
Sacred sounds - Awakening the heart through Vibration
a two hour event with special guest!
Space is limited. Pre-payment will save you a space. Thank you.
We'll set up a mat with a meditation cushion and blanket. If you wish, bring any of the following to add to your comfort lying on the floor: a pillow, an eye bag, blanket and extra padding or mat.
Sound Event Fee:
Cash, check or PayPal (see below)
$30 for one person
$58 for two people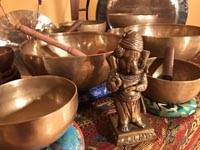 For more information email or call:
Mary Bartel 518-354-2425 or
Andrea Villiere 518-304-3763


Monday, June 19 - 6-8PM

Inner Quest Yoga, Saranac Lake, NY
w/Andrea Villiere, Mary Bartel and Alan Simon
---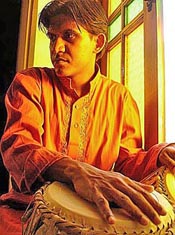 A two hour event, with special guest, Alan Simon!
We are delighted to have Alan join us. He is a seasoned percussionist playing the Tabla (similar to bongos). The tabla is an important instrument in the devotional traditions of Hinduism and Sikhism, such as during bhajan and kirtan singing. Alan will start the event playing solo and then lead us in meditation and kirtan chanting. (See Alan's bio below.)  Andrea, Mary and Alan will then play together during the Sound Bath.
---
We invite you to ...
Immerse yourself in the sacred realm of sound. Come be transported on a magical journey through the healing vibrations of the Gong, Crystal and Tibetan singing bowls, chimes and more.
---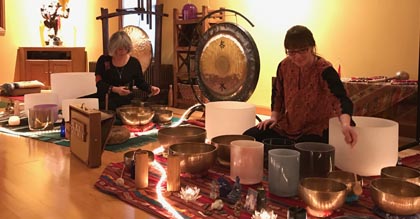 What is a Sound Bath?
During a Sound-bath you are bathed in a sonic symphony of mystical tones and vibrations.
We begin the sound bath with an introduction to the event and what you may experience, followed by a seated guided meditation. Then you'll be invited to either sit in a chair or lie on the floor on yoga mats, with blankets and pillows, relax and journey inward to soak up the healing harmonic frequencies. At the end of the session you are guided back to a seated position for a period of silence and then integration, gathering back in the group.
The resonance of the instruments is not just an auditory experience – it's like receiving a bodily sound massage. Most people fall into a state of deep relaxation - increasing mental focus and awareness which provides the benefits of meditation. The sounds act as the focal point, reduces and even eliminates mind chatter, which can lead to releasing deep rooted tension and emotional blocks. Many people emerge from the experience reporting feeling lighter, serene, more in balance, refreshed, rejuvenated and sometimes "ready for a nap!"
"Sound is the medicine of the future." - Edgar Cayce
---
---
Bio: Alan Simon Lazarus
Alan Simon has been playing the Tabla for over a decade. He has been under the tutelage of Ustad Bashir Khan, an exponent of the Punjab Gharana. Alan graduated from the National Academy of Performing Arts (NAPA) in Karachi. After graduating he delved into Percussions from different regions: Afro-Cuban rhythms and the drumset. Alan transposed a lot of the tabla rhythms and wrote interlocking parallel rhythms for the instruments he played.
He formed TAAL KARISMA, a world music band, where he collaborated with international musicians. With his diverse knowledge on percussion, he globe-trotted and managed to perform in Pakistan, India, Thailand and the US.
Alan has had the honor of performing for the President of Pakistan, Pervaiz Musharaf, at the National School of Drama in New Delhi, India, with Bollywood singer Ali Zafar at the Rosen Shingle Creek in Orlando, Fl., Memorial Art Gallery in Rochester, NY and Cornell University just to name a few of his performances.
He also was featured on most of the music related shows for television and radio in Pakistan, and has been named 'The Pioneer of Body Percussions in Pakistan'.
Some of his world music got played on FM stations in the US, Luxembourg, and Pakistan.
---
Click here if you wish to receive a notification via email when other Sound Healing options become available. Namaste.
Inner Quest Yoga & Wellness Center
You are the visitor. Thank You for stopping by.