Sound Bath EVENTS held @ Inner quest yoga & wellness center
Sacred sounds - Awaken the heart through Vibration
Space is limited. Pre-payment will secure your spot.
Sound Event Fee: $25/pp
Payment via cash, check or Pay Pal (link below). Make checks payable to Andrea Villiere. Drop off or mail payment to Inner Quest Yoga (address noted above).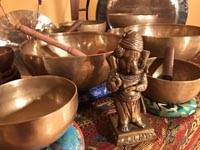 For more information email or call:
Mary Bartel 518-354-2425 or
Andrea Villiere 518-304-3763


Thursdays
Nov. 30, 5:30 PM

w/Andrea Villiere and Mary Bartel
---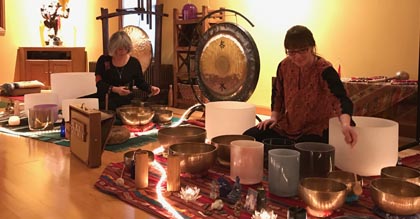 We invite you to ...
Immerse yourself in the sacred realm of sound. Come be transported on a magical journey through the healing vibrations of the Gong, Crystal and Tibetan singing bowls, chimes, and more.
---
What is a Sound Bath?
During a Sound-bath you are bathed in a sonic symphony of mystical tones and vibrations.
We begin the sound bath with an introduction to the event and what you may experience, followed by a seated guided meditation. Then you'll be invited to either sit in a chair or lie on the floor on yoga mats, with blankets and pillows, relax and journey inward to soak up the healing harmonic frequencies. At the end of the session you are guided back to a seated position for a period of silence and then integration, gathering back in the group.
The resonance of the instruments is not just an auditory experience – it's like receiving a bodily sound massage. Most people fall into a state of deep relaxation - increasing mental focus and awareness which provides the benefits of meditation. The sounds act as the focal point, reduces and even eliminates mind chatter, which can lead to releasing deep rooted tension and emotional blocks. Many people emerge from the experience reporting feeling lighter, serene, more in balance, refreshed, rejuvenated and sometimes "ready for a nap!"
"Sound is the medicine of the future." - Edgar Cayce
---
Pre-registration and payment is needed to save you space. We will set up a space for you with a yoga mat, a blanket for padding and a cushion you can rest your legs over or use under your head. For added comfort, bring another mat, pillow, blanket, eye bag, etc.

Payment Options:
Check payable to Andrea Villiere, Mail to: Andrea Villiere, PO Box 1103, Saranac lake, NY 12983
Cash $25/pp dropped off at Inner Quest Yoga, Saranac Lake (address above)
PayPal secure payment: $25 per person
Inner Quest Yoga & Wellness Center
You are the visitor. Thank You for stopping by.